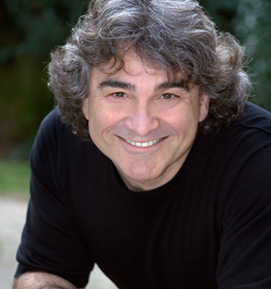 About Brod's Poetry
Enter the world of Brod Bagert's poetry and get ready to be launched into the future of form and style. Audience members connect instantly with his high-energy presentations as they come to realize the entire show is all about them!
Brod says, "I write my poems to entertain. So, when the audience changes, the poems change. For kindergarteners I tend to use chanting, repetitious heroic couplets. For third graders I like ballad stanzas with a strong storyline. For eighth graders, free verse shifting in an out of rhyme to match tone and content."
Brod is always comparing poetry to music. That's because he believes that the sound of words is as important to poetry as the sound of the notes is to music. For Brod, poetry is meant to be performed- "The idea of voice is simple; it's like writing lines for an actor in a movie. Sometimes I write in my own voice, but most of the time I write in the voice of the audience for whom the poem is intended. In a poem for kindergartners, the person talking in the poem is a kindergartner. In a poem for sixth graders, I write in a sixth-grade voice."
The result is a body of performance-friendly poetry through which children hear their own voices, engage their own thoughts, and discover their own innermost feelings. Throw in a touch of situational humor, and the result is an exciting, valuable, brand new kind of poetic experience for children.
Finding your own voice through hearing your own voice is one of Brod's favorite ideas. If you want to tease him, act really serious and ask him, "Do you think it's a good idea to recite poems out loud?" Then sit back and watch as Brod boils over with enthusiasm and talks for the next three hours! The lesson is, he says, "To understand, love, write, present, and speak poetry; as well as to woo your lover and raise good children, RECITE POEMS OUT LOUD!"
About Brod's Life
Brod Bagert is the award-winning author of 19 books of poetry for children, young-adults, and adults.  His work has received numerous awards including the International Literacy Association's prestigious Young Adults Choices award, the Association of Educational Publishers Distinguished Achievement Award, the Independent Publisher Gold Book Award, and Mom's Choices Gold Medal. He tours some thirty weeks a year, and has visited Asia, Europe, South America, Africa and just about every nook and cranny of the good ole USA.
Born and raised in the City of New Orleans, Brod studied the classics in Latin and Greek, wrestled and boxed to vent adolescent angst, fell in love with and married his high-school sweetheart, practiced law, served in public office, and reared four children that are the joy of his life.
Brod started his career as a poet in the third grade with a poem for his mother. He wrote a few poems in high school, then picked up the pace in college because "GIRLS LOVE POETRY!" During his lawyer days, Brod wrote fewer and fewer poems. Then one of his children asked him to write a poem for her to perform in her school elocution program. That launched a flood of poems unabated to this very day. In 1992, Brod closed his twenty-one year law practice and became one of America's very few full-time, professional poets.
Today Brod mesmerizes audiences with poetry, both his and those of the great authors of history, leaving participants with a new or reinvigorated love for poetry in the process.
Brod continues to live in New Orleans with Debby, his wife of 46 years, where they spend quality time with their four children, and a growing tribe of grandchildren.
This information is available in a downloadable pdf. Click here to download.
Back to top